Flash Format 2.62 - Format, Verify, Repair and AutoRun Memory Cards
2.62
Flash Format 2.62 - Format, Verify, Repair and AutoRun Memory Cards Publisher's Description

The full featured storage card management utility Verify, Repair, Format and AUTORUN your memory cards with Flash Format!

Flash Format is a full featured memory card management utility supporting all ATA and SD compliant storage devices, including Compact Flash cards, SD cards, Multimedia cards (MMC), MicroDrives, PCMCIA memory cards, SmartMedia, MemorySticks, etc.
With Flash Format you can get detailed information and statistics about your storage cards, including physical characteristics (FAT type, sectors, cluster, heads, cylinders, etc.) and analysis of file allocations (slack space).
Of course, you can also use Flash Format to perform integrity checks, repair allocation errors, and re-format storage cards to original conditions, wherever and whenever you need it.
Furthermore, Flash Format lets you activate AutoRun on any storage card (without reformatting), so that your games, MP3 playlists, eBooks or PhotoAlbums can be automatically started at card insertion.*
Flash Format runs on all Pocket PC,
HPC 2000
and
HPC/Pro
devices (for HPC Edition please
click here
).
* AutoRun is available on Pocket PC edition only.
Flash Format Features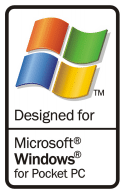 Supports all ATA compliant and SD compliant storage cards, including Compact Flash Cards, Secure Digital (SD) cards, Multimedia Cards (MMC) , SmartMedia cards, Memory Sticks, PCMCIA memory cards, and large capacity MicroDrives.
Runs as a Control Panel applet (accessible from "Start > Settings")
Automatic detection of card insertion and removal, so you can check, repair or format multiple cards easily, one after the other.
AutoRun feature: let's you automate the execution of specific files whenever a card is inserted (Pocket PC edition only).
Provides detailed storage and file statistics (including FAT Type, slack space, heads, cylinders, sectors, clusters, etc.).
Detailed verification of card integrity and error reporting.
Detects and repairs allocation errors.
Supports multiple storage cards simultaneously.
Formatting features with selection of File System and clusters size.
FAT Backup option, to improve storage reliability.
Option to create "My Documents" folder when formatting.
Option to automatically restore InBox Attachments folder.
Compatibility option for Digital Cameras.
Automatically perform integrity check after formatting.
Easy to use, Pocket PC compliant user interface.
Full install/uninstall support, with embedded software reset.
Detailed context sensitive Help (accessible via "Start > Help").
English and German versions available.

What's new with version 2.5
NEW: Support for large capacity media such as 2GB and 5GB MicroDrives
NEW: Support for SmartMedia cards and MemorySticks (through suitable adapters)
NEW: More cluster size options when formatting
Improved card detection logic
Improved error diagnostic and reporting
Improved install/uninstall with embedded software reset option
Improved ClearType support
Flash Format is also available in
German
!
Upgrade information
Registered users of version 2.x can upgrade to Flash Format 2.50 for free (just download and install the latest version over your existing copy of Flash Format).
Keep your memory cards in perfect shape with Flash Format!
Look for Similar Items by Category
Feedback